Version en français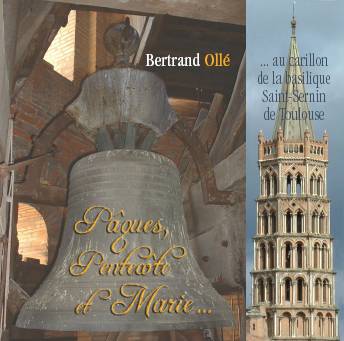 Easter, Pentecost & Mary
at the carillon of
St Sernin basilica, Toulouse
This first record of a carillon from Toulouse includes the seven traditional bell ringings from this old city, which tells the story of martyr St Saturnin, as well as the most famous French carillon melody, best known as the song Toulouse from Claude Nougaro. Three concerts are recorded featuring gregorian hymns, religious songs, gospel songs or traditional melodies for Easter, Pentecost or dedicated to Mary.
Available inside the basilica, Siloë Jouanaud bookshop, Fnac Store and on demand (20€ + Posts charge).
Easter Celebration

Great Taur
Listen to an extract :
Victimæ paschali laudes
O Cross Standing up over the World
Victory, Thou Shall Reign !
Light of People
Christians, Let us Sing the Victorious God
Canticorum jubilo
When The Saints
Nobody Knows The Trouble
La Toulousaino (Louis Deffès)
Melody of the Minimes church carillon
(Toulouse, Claude Nougaro)
Listen to an extract :
Se canto
The Mountain Men
Plan, Rollings and Great Taur

Pentecost Celebration

Simple Taur
Veni Creator
Veni Sancte Spiritus
Come, Spirit of Holiness
Ubi caritas et amor
Frère Jacques
Listen to an extract :
March and Taur

Aubade to Mary

Major Double
Hail ! Mary
Laudate Maria
Ave Maria (Lourdes)
Listen to an extract :
Ave Maria (Franz Schubert)
Ave Maria (Charles Gounod)
The Brave Highland Laddie
Souno, Guilhemoun
Era hilho dera béuso
March, Simple and Double
Limited series
Selected by the carousel of Canet-Plage (Roussillon).
Advice for use from Aurélien, age 2 : once in the morning, three times the afternoon. Dong !